How To Use Your Hermès Bag Without Damaging It
A topic that is often discussed among Hermes collectors is whether or not it is prudent to use one's bags and if so, how often and how hard? Many collectors insist that the whole point of a bag is to be used and would never buy a bag they wouldn't use. Others prefer to keep their prized collection in pristine condition, either out of personal preference or with an eye towards future value. Here we give you some tips on how to best use your bag without abusing your bag:
Twilly the Handles
Often at Hermes when a Birkin or Kelly is purchased the sales associate will offer to wrap an accompanying Twilly around the handle. The slim piece of printed silk is the perfect length for this task and protects the leather underneath from oils and other damage that comes from the hand. Choosing the perfect Twilly to pair with a bag is an artform in itself, not unlike being able to tie them perfectly, which Hermes sales associates train extensively on. Of course it is not necessary to use an Hermes Twilly, any long piece of silk of other material will serve just as well.
ALWAYS Use an Insert
One main sign of use that Birkins and Kellys will exhibit after a short period is interior denting. Little shallow divots form at the base as a result of pressure from things like wallets, phones, keys and whatever else might be in there. That's why Hermes enthusiasts everywhere agree on the prudence of using a bag insert. Not only does it protect against dents, but also from pen marks and spills that might happen by accident. It also makes transfering all your belongings to another bag extremely easy. Hermes makes inserts but most people agree that they are not worth the price. JaneFinds Baganizer inserts come in custom sizes for every size Birkin and Kelly and provide far more structure, protection and pocket space.
To Plastic? Or Not To Plastic?
Whether or not to remove the plastic from the hardware of a new bag is another big question Hermes collectors are divided over. Some say that keeping the plastic on for too long runs the risk of a bag developing tarnish from humidity trapped between the metal and plastic. Others insist that even loose plastic protects against the faint surface scratches present on almost all used bags. One consensus, though, is that pristine hardware is always preferred.
Don't Neglect the Feet!
A more recent product has come about to protect the metal feet or Clou on Birkins and Kellys. Essentially tiny rubber cups that cover the metal fittings, these serve to keep even the most unseen bits of hardware pristine. Scratched feet are often the one thing that doesn't detract from an otherwise new bag's appeal, as even the plastic that comes on the feet does little to protect them.
Save Your Strap, Use a Chain
When it comes to Kelly accessories, a perfect strap goes a long way. Consider keeping your strap pristine and using a JaneFind Cuban Link chain instead. With finishes to match any Hermes hardware, and various sizes to choose from, this little substitution could keep your bag's accessories store-fresh for years and help maintain the value of your favorite piece.
Keep the Lock at Home
Although the lock and clochette hanging from the handle of a Birkin or Kelly may be a part of the iconic 'look' of the bag, the Cadena lock itself can easily damage the bag it's hanging from. We would not recommend hanging the lock from the spindle either, as this will inevitably develop what's called a swing mark underneath. Opt, instead, for a soft lightweight charm such as a Rodeo or Buddy charm. The soft lambskin leather won't damage any material, and you'll be able to keep that lock and clochette in store-fresh condition.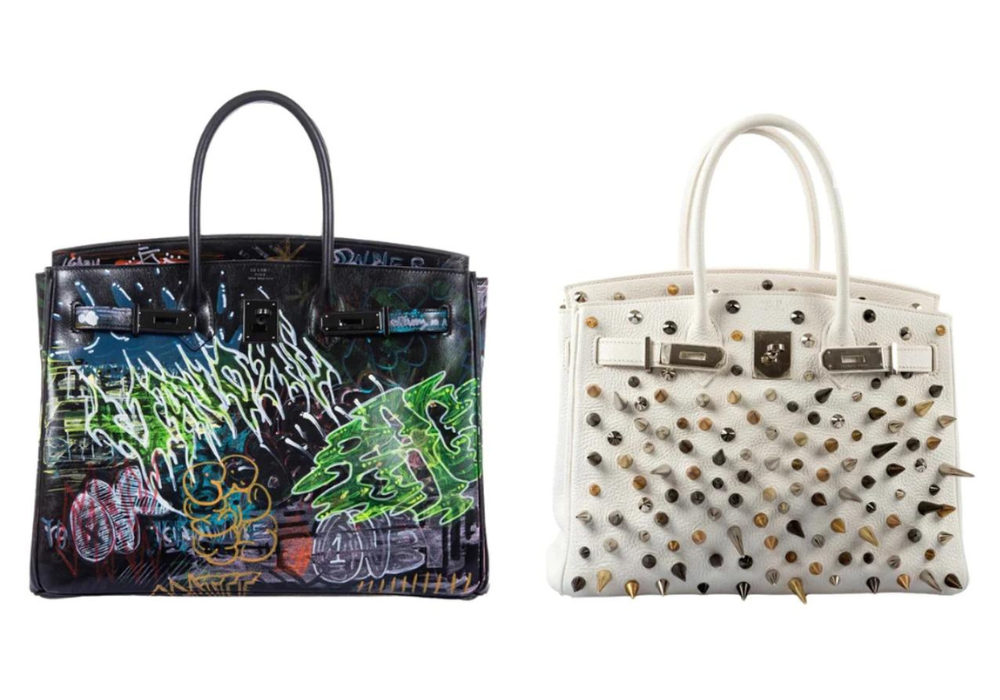 Hermes typically brings to mind sophistication and luxury, as well as images of horses clad in fine leather and women clad in fine cashmere and silk. But Hermes has courted the other side of socie...
Read more